At-Home with Landline Emergency Response Service – Fall Detection Optional
LifeFone's at-home systems are designed to give you independence and safety in and around your home. In any kind of emergency, this 24/7 service saves lives when seconds count. It has a signal range of up to 1,300 ft. from the base unit with a 32-hour supervised back-up battery if you lose power.. Batteries for wristband, necklace as well as the base unit are silently monitored in our call center.
All emergency response services rely on telephone service. With all the advances in phone service, plain old telephone service (POTS) still provides more reliable telephone connections, making landline emergency response service a very appealing option for people who tend to be alone most often at home.
This system has a superior range, both for signal and voice communication. The base unit has an ultra-sensitive microphone, and the volume can be adjusted to make it as loud as necessary. It's ideal for anyone with a large home or yard, and/or who may be hard of hearing.
How it Works

24/7 US-based monitoring for any emergency at home. Whether it's medical, fire, home intruders, or whenever you need help, we are ready to assist you.
Waterproof wristband or necklace – you have your choice; either style can be worn in the bath, shower or pool.
Lightweight – both wristband and necklace are easy to wear
Unlimited emergency notifications – unlike many providers, we will notify as many emergency contacts as you wish should you have an emergency.
Lifetime equipment guarantee

Lifetime price guarantee
Monitoring for spouse at no additional charge

Remote phone answering – You no longer need to rush to answer the phone. Just press your wristband and necklace for two seconds to answer a call and you can speak through the intercom on your base station. Press again to end the call.
Reliable – The system is both UL and FCC certified
Base Station supervised battery back-up power of up to 32 hours.
High/low temperature sensor.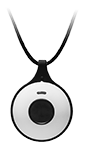 Optional: Fall Detection
Range up to 1300 feet from base unit.
Waterproof necklace
Cost is an additional $5/month per necklace
LifeFone can also help you with some of the more routine but important aspects of daily living to ensure your well-being. We this At Home Landline system, we offer the following Caregiver Tools:
Daily Check in Calls
We will make daily outbound calls to the subscriber. Cost is $19/month.
Activity Assurance
Subscribers can check in with us daily using their base unit. Cost is $6/month.
The LifeFone medical alert service provides a lifeline to security and offers independence for you and your family. The medical alert system is a step toward preserving your lifestyle without sacrificing safety. LifeFone's medical alert also provides the most personalized response plan, which helps to ensure the best outcome in a medical emergency.
LifeFone Personalized Emergency Care Instructions
Our unique Emergency Care Instructions allow subscribers and their family members to customize our response to fit their specific needs. Your LifeFone Care Agent will help you design the right plan for your needs and as your situation changes so will your Emergency Care Instructions. The Emergency Care Instructions include your medical history, medications, allergies, physicians, family members, neighbors, your preferred hospital and more.
LifeFone Moves With You
The LifeFone system can easily move from one location to another, whether you relocate for a week or a season. A simple call to our emergency response center is all it takes to reactivate your system in your new location.
Medical Alarm Technology -- LifeFone's high-tech two-way voice base unit allows you to activate the system anywhere in your home up to 1,300 feet from the base unit.
Waterproof Help Button -- LifeFone's small, lightweight help button is easy to use, and is monitored by the LifeFone Response Center 24 hours a day. The simple help button can be worn as a necklace or wristband, and there are never any batteries to change.
100% Lifetime Warranty -- Every LifeFone unit is backed by our warranty and your LifeFone equipment will be quickly replaced at no charge.
Battery Back-Up -- In case of a power failure the LifeFone base unit's built-in battery will protect you for up to 32 hours. The LifeFone Response Center is automatically notified of the power failure, and will take action according to your Emergency Care Instructions.
LifeFone's Remote Phone Answering Feature -- The LifeFone base unit allows you to answer incoming phone calls simply by pressing your necklace button. You can speak to your callers from across the room by activating LifeFone's two-way speaker base unit.
LifeFone's professional Emergency Care Agents are on call 24 hours a day, 365 days a year -- reducing concerns about personal safety and helping to ensure early intervention and allow seniors to remain independent in their own homes. We provide caring service, security, and peace of mind to seniors, their families and caregivers throughout the United States.
Using the latest in emergency response and information technology, along with a personalized response, the LifeFone medical alert service has provided the best outcomes in emergency situations for you since 1976. As a result, the LifeFone emergency response system has earned the recognition of hospitals, area agencies on aging, home health care providers, and geriatric care managers as an integral part of a customer's overall care program. Read more about LifeFone's Recognition.
As soon as the personal emergency response button is pressed, a connection is made to caring and compassionate, trained Emergency Care Agents based in the U.S. Faster response times help to ensure the safest and best possible treatment for a fall, medical emergency or other safety concern. Our Care Agents review each emergency care plan to ensure we follow your wishes. Whether you need immediate medical help or just some assistance from a neighbor, LifeFone is there when you need it.
Our Consumer Friendly Policies Apply to All LifeFone Services:
No Activation Fees
No Equipment Fees
30-day Money Back Guarantee
Lifetime Subscriber Price Guarantee
Lifetime Subscriber Equipment Guarantee
Spouses Protected For Free With Basic Service.
Just $5-10 More Per Month To Add Automatic Fall Detection.
Cancel At Any Time & Pay Only For The Time You've Used
LifeFone Recognition
LifeFone is recognized by doctors, hospitals and
caregivers along with leading national health,
education and consumer organizations.
About LifeFone:
LifeFone has been in business since 1976
U.S. based care agents assist you 24/7
Easy to install
Rated A+ by the Better Business Bureau
Fully Waterproof Necklace and Wristband
Equipment range up to 1300 ft. in any direction
LifeFone's professional Care Agents are available 24 hours a day, 365 days a year, reducing concerns about personal safety, helping to ensure early intervention and allow seniors to remain independent in their own homes. Whether you require emergency medical help or simply need assistance from a neighbor or family members, a simple push of the medical alert button provides access to the help you need.
For
less than a dollar a day,

you can have
24-hour protection.
Call:
1-800-331-9198

to order today!
Customer Reviews