At-Home & On-The-Go GPS, Voice-In-Necklace with Optional Fall Detection
LifeFone's two-way voice necklace with GPS service protects you 24/7 both in your home and anywhere you go in the U.S. provided there is AT&T cellular service in your area. It's an all-in-one solution. There's no equipment to carry, just a lightweight necklace to wear.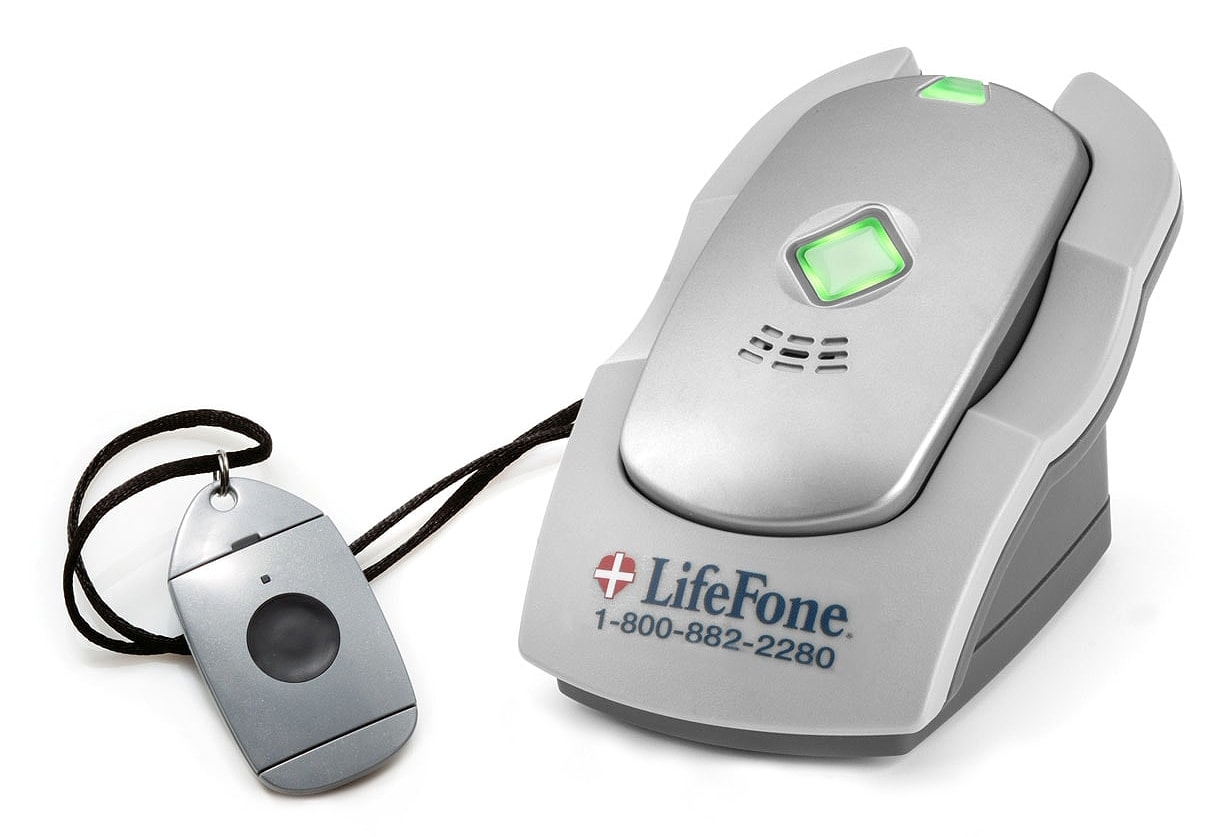 Additional Necklace: Recommend to be worn only when charging the Voice In Necklace

Voice-in-Necklace is 2.6" x 1.6" x .75", weighs 1.7 oz.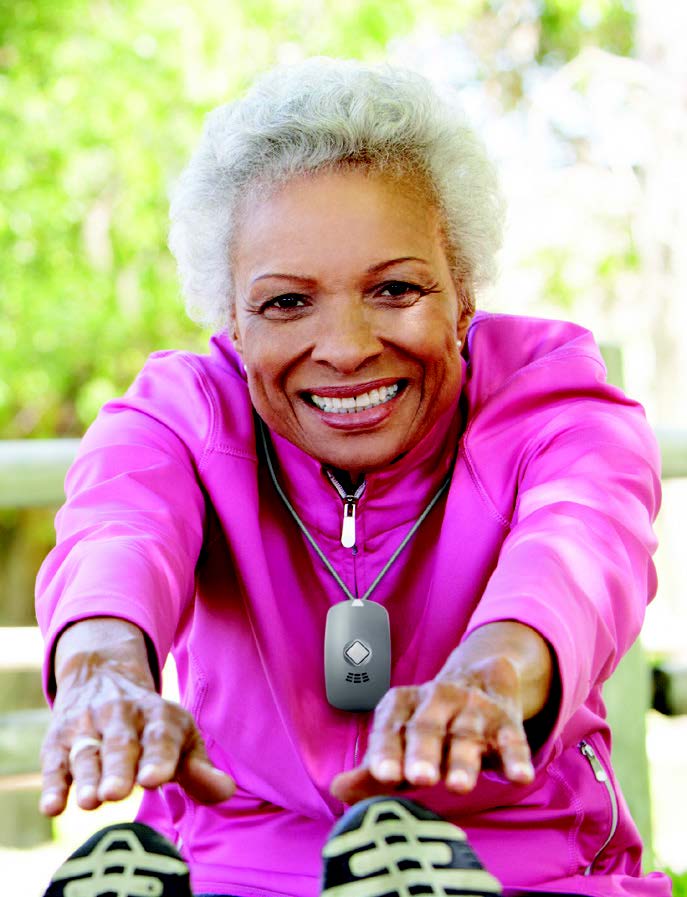 With voice-in-necklace technology, your necklace is equipped with a two-way speakerphone, so you never have to worry about hearing or being heard in an emergency. This system works on the AT&T Cellular network, using our cellular service, not yours. There are no additional cellular fees; everything is covered with your LifeFone service.
How it Works: At-Home and On the Go Voice-in-Necklace
- with Fall Detection (optional)

Easy to install. Just plug in the power cord on the charger and rest the necklace in the charger cradle to charge. Once it's charged, contact us to complete your initial system test.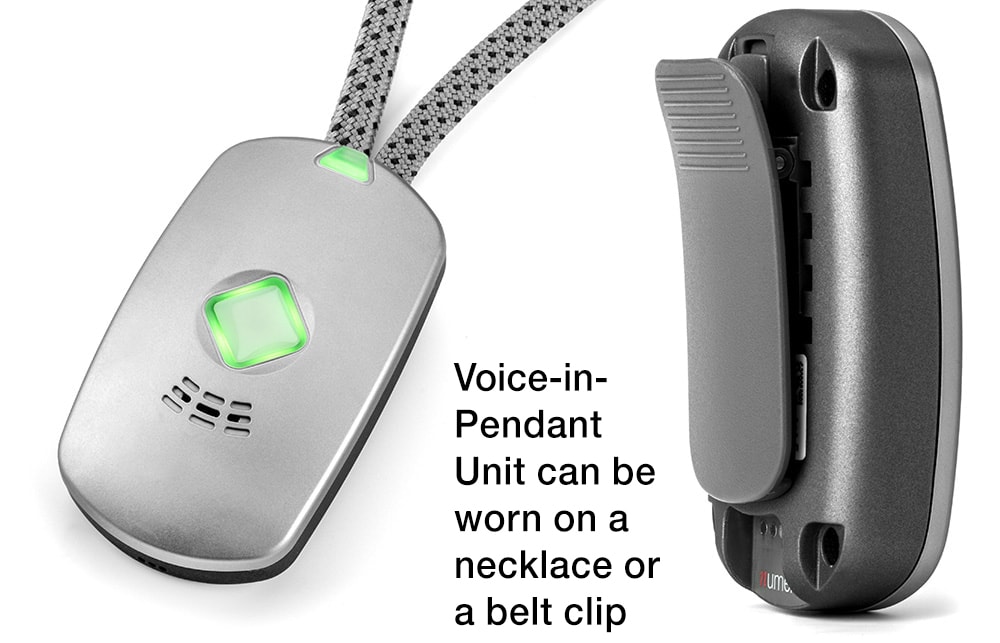 Comfortable and Lightweight. Easy to wear. The voice-in-necklace weighs 1.7 oz. and can be worn as a necklace or on a belt-clip that we provide. It's measurements are 2.6" l x 1.6" w x .75" d.
Identifies your location with GPS technology. In an emergency, we will send emergency responders to you. We are often able to identify your location more accurately than 911!
Works while charging. Unlike most voice-in-necklace systems, the LifeFone system works while charging. We recommend charging the device each night. Recharging takes approximately four hours. We provide you with an additional, lightweight necklace or wristband that you can wear comfortably while sleeping, or when at home, when the Voice-In-Necklace is in its charging station. The additional necklace or wristband has up to 300 ft. of range from the voice-in-necklace while it's in the charging station, which is almost a football field in any direction.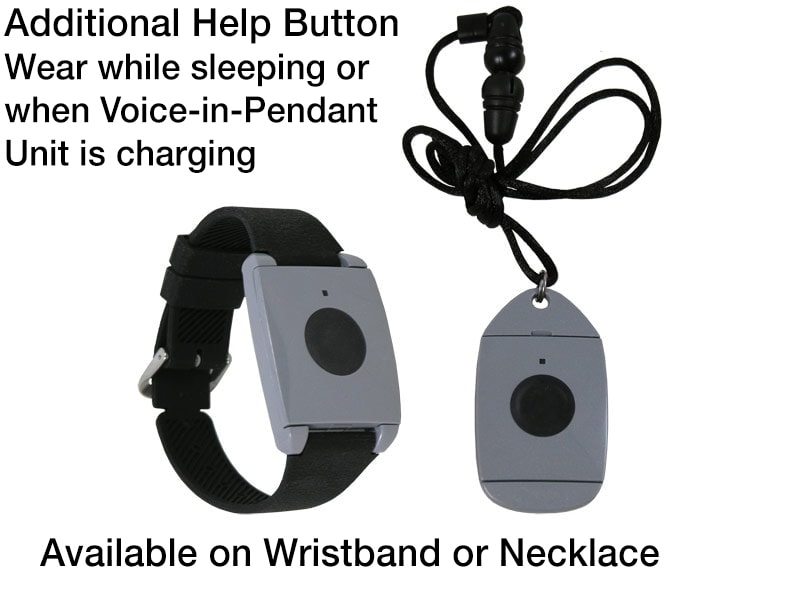 Optional: Fall Detection
The most advanced fall detection - detects falls with utmost accuracy. Its fall detection methods are based on multiple motion sensors and proprietary algorithms.
Automatic fall detection is activated through your two-way voice necklace. There is no additional equipment to wear or carry.
This fall detection voice-in-necklace automatically sends an alarm to our Emergency Response Center if you fall.
Since no fall detection system detects 100% of falls, this voice-in-necklace is also equipped with a standard help button for added security. If able, users should press their help button in any emergency.
Cost is an additional $5/month
Monthly Plans
Starting At

$42.95
$42.95 per Month Billed Annually*
$44.95 per Month Billed Quarterly
$46.95 per Month Billed Monthly
Fall Detection is $5/month additional.
*FREE Standard Shipping on Annual Plans (3-5 Business Days)
24/7 US-based monitoring for any emergency. Whether it's a fall, medical, fire, home intruders, or whenever you need help, we are ready to assist you.
Water Resistant – Both the voice-in-necklace and the additional necklace or wristband protect you in the shower and bath.
Durable - Shatter-resistant from 6.5 feet.
Mobile device charge of up to 36 hours and

it works while resting in charger

via an additional, non voice-in-necklace necklace or wristband ideal to wear while sleeping.
Supervised batteries. The batteries in both the mobile voice-in-necklace and the additional necklace or wristband are supervised in our call center to ensure timely replacement at no cost to you.
To learn more about coverage in your area, use the AT&T Coverage Viewer
LifeFone can also help you with some of the more routine but important aspects of daily living to ensure your well-being. (See Caregiver Tools for a full list of LifeFone tools), With our At Home and On-the-Go Voice-in-Necklace, with or without optional Fall Detection, we offer the following Caregiver Tool:
Daily Check in Calls
We will make daily outbound calls to the subscriber. Cost is $19/month.
The LifeFone emergency response service provides a lifeline to security and offers independence for you and peace of mind for your family. LifeFone's At-Home and On-the-Go Voice-in-Necklace system is a step toward preserving your lifestyle without sacrificing safety. LifeFone also provides the most personalized response plan, which helps to ensure the best outcome in a medical emergency.
LifeFone Personalized Emergency Care Instructions
Our unique Emergency Care Instructions allow subscribers and their family members to customize our response to fit their specific needs. Your LifeFone Care Agent will help you design the right plan for your needs, and as your situation changes so will your Emergency Care Instructions. The Emergency Care Instructions include your medical history, medications, allergies, physicians, family members, neighbors, your preferred hospital and more.
LifeFone Moves With You – You can take your mobile unit with you when you travel throughout the U.S. When you are relocating to a different residence, whether for a week or a season, a simple call to our emergency response center is all it takes to ensure that we have the relevant information for that location, such as a hidden key or lock box code for emergency responder home entry.
Medical Alarm Technology -- LifeFone's highly sensitive two-way voice-in-necklace allows you to activate the system anywhere in your home or out and about simply by pressing the help button on your necklace. The sensitive two-way speaker will allow you to speak to a caring LifeFone care agent right through the necklace. Remember to always take your Voice- in-Necklace with you when you are away from home.
100% Lifetime Warranty -- Every LifeFone unit is backed by our lifetime warranty and your LifeFone equipment will be quickly replaced at no charge. This warranty includes replacement of your batteries, whose strength we supervise to ensure timely replacement at not cost to you.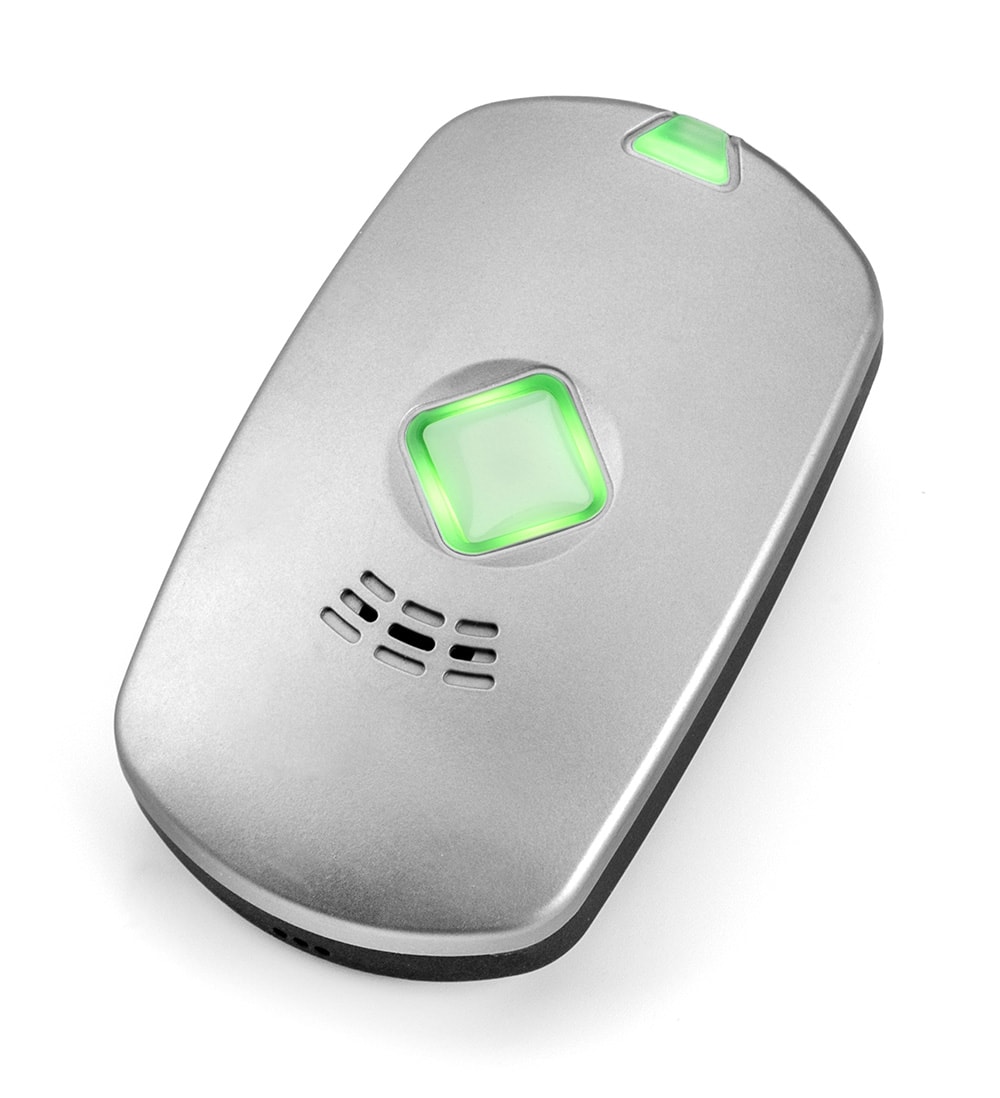 To call for help, Press the help button on your necklace firmly for two (2) seconds and release. An alarm will be sent to our response center through your Cellular Base Station. If you are able to speak, please provide your status to a caring and trained Emergency Care Agent, based in the U.S. Our Care Agents will confirm your location and review your Emergency Care Plan to ensure we follow your wishes.
Whether you need immediate medical help or some assistance from a neighbor, LifeFone is there when you need us. Please remember to always wear you voice-in-necklace when you leave home.
Getting help with fall detection - If you fall and are not able to push your blue button, your fall will be automatically detected and an alarm will be sent to the Emergency Response Center from your Voice-in-Necklace.
LifeFone's professional Emergency Care Agents are based in the United States and are on call 24 hours a day, 365 days a year -- reducing concerns about personal safety and helping to ensure early intervention and allow seniors to remain independent in their own homes. We provide caring service, security, and peace of mind to seniors, their families and caregivers throughout the United States.
Recognition – Since 1976, using the latest in personal medical alert and information technology, along with a personalized response, LifeFone's emergency response services provide the best outcomes in emergency situations. As a result, LifeFone has earned an A+ rating with the Better Business Bureau. LifeFone is also recognized by the National Council on the Aging, the National Stroke Association, Harvard Health Publications, the National Institute of Senior Citizens, Web MD, Consumer Affairs, A Place for Mom, and more.
Read more about LifeFone's Recognition.
Our Consumer Friendly Policies Apply to All LifeFone Services:
No Activation Fees
No Equipment Fees
30-day Money Back Guarantee
Lifetime Subscriber Price Guarantee
Lifetime Subscriber Equipment Guarantee
Spouses Protected For Free With Basic Service.
Just $5-10 More Per Month To Add Automatic Fall Detection.
Cancel At Any Time & Pay Only For The Time You've Used
LifeFone Recognition
LifeFone is recognized by doctors, hospitals and
caregivers along with leading national health,
education and consumer organizations.
About LifeFone:
LifeFone has been in business since 1976
U.S. based care agents assist you 24/7
Easy to install
Rated A+ by the Better Business Bureau
Fully Waterproof Pendant and Wristband
Equipment range up to 1500 ft. in any direction
LifeFone's professional Care Agents are available 24 hours a day, 365 days a year, reducing concerns about personal safety, helping to ensure early intervention and allow seniors to remain independent in their own homes. Whether you require emergency medical help or simply need assistance from a neighbor or family members, a simple push of the medical alert button provides access to the help you need.
If you have questions or are ready to order,
call us at
1-800-331-9198

. We're here to help.